Today I took a trip to The Butterfly House in Stockholm with Johannes
It was mostly for fun, but also a bit of training before my trip to Sri Lanka.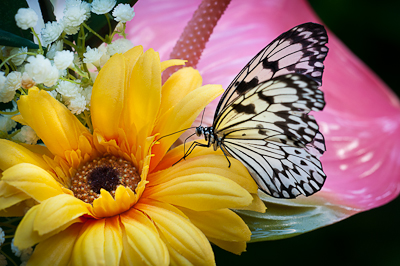 Being the first day after the school holidays it was very quiet and not much of a problem to use a tripod. Flashguns are 'discouraged', but the nice lady on the desk said that we could use them if a picture 'really needed it'. It was -5 C out, and we walked from the far car park, so it took 15 mins or so for the cameras to warm up and stop fogging. Next time I would put mine in a plastic bag and sit it on a microwaved bag of rice for the journey, and/or have it in the footwell of the car with the heater on. We chose a sunny day, but despite the buildings being made of glass, light was still a bit of a problem.
But there were plenty of pretty flowers and butterflies, and new ones were hatching all day. Definitely a place I'd recommend to go for an afternoon of shooting off season.
Here's the result : Butterfly show
Most of the pics were taken with a Sigma 150mm macro, apertures between f5.6 and f11.