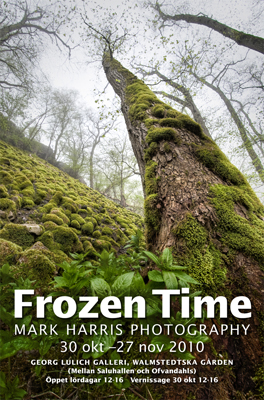 is off to host his LA exhibition during November, so I get to take over his gallery for the month. Amongst other things I'll be showing my canvas nature prints, some horse pictures, and I'll also be selling A5 greetings cards with winter and Uppsala motifs.
The opening is on Saturday 30th October, officially from 12-16, but probably longer since it's also the opening of the light festival that evening.
Then I'll be open every Saturday at least from 12-16, until the 27th November, which happens to be the first of advent.
Weekdays I'll open when I have free time, so call or mail if you're in town then and want to see if I'm there.
The Georg Lulich Gallery is in Walmstedska Garden, Sysslomansgatan 1, Uppsala.
That's between Saluhallen and Ofvendahls, next to Kultur Kafeet.
Nov 29 – And now it's over, so Georg's pictures will be back next weekend.
I had a lot of fun talking to the 500 visitors that passed through, and am very glad that I got the chance to do this.
If you missed it, my next exhibition will be at Gottsunda library next March.