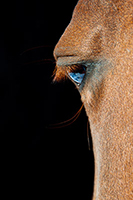 A few years ago I came across a horse that was standing in a pool of light in front of a dark bush that was in shadow, and the high contrast led to an image of her eye that looked like it was taken in a studio. I really liked the result (as did Edviks Art Museum, and the Mimara Art Museum in Zagreb, who both included it in their autumn collections), but the chances of getting similar natural light again was small, so I decided to build an overdimensioned studio where I could control the light in the same way that I do for portraits of people.
Surmulen stables kindly let me use their barn, and I rigged it somewhat like a human studio, but with looser, less precise lighting since I expected that positioning the horses would be difficult.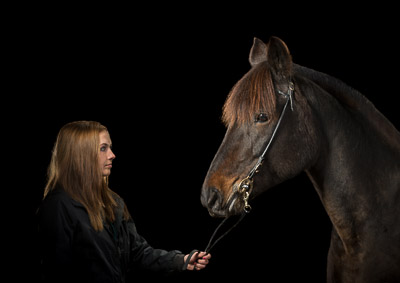 About a dozen horses came in, and none seemed to be troubled by the flashes,they were much more bothered by simply being in a strange building, and positioning them was predictably 'interesting'. But the results were everything I had hoped for, and the images are now hanging on the walls of the reception at Ultuna horse hospital.
Click on the image of Astrid and Tösen for more shots from the studio.
And here is a timelapse from behind the scenes :