This is the story of the shoot of an advert for a new-business network that I'm in.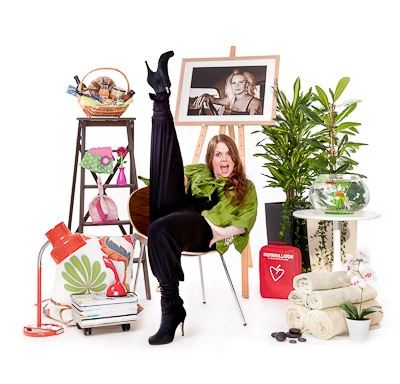 A group of us in the network decided we could afford a full-page ad in the local paper if we all shared it, and so three of us set about making it happen.
Zara happens to have been a professional graphic designer in her past, and Emilie is a natural model as well as stylist. We all loved Zara's first sketch, with our products arranged around a model, so it was just a matter of collecting the items, and shooting.
I thought about renting a full-sized studio, but we ended up using a room outside Zara's Fish Spa, for flexibility and convenience. The only problem this caused was that my 2.7m background wasn't really wide enough, so we had to improvise some extra width and photoshop the seams.
After shooting the safe, planned pose, I suggested that Emilie shake loose, just for fun, and inevitably that resulted in a much better shot than the planned one. The best shots always seem to be during warm-up and testing, or winding down.
Three hours was really a bit rushed, but we got exactly what we wanted, and Zara made a great ad from the shot of Emilie doing impossible things with her leg.
Here's a timelapse video of the day (you should have sound on…) :
And here is the final ad.